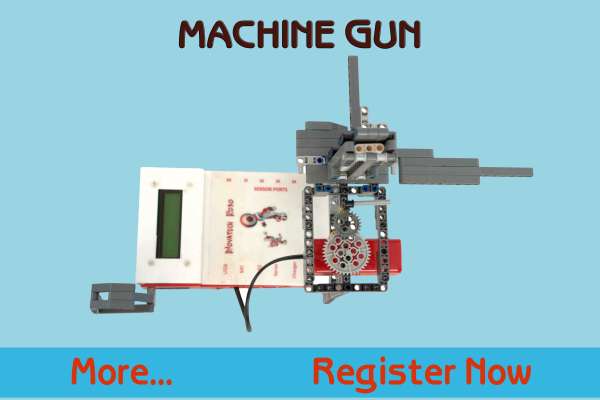 Price: Rs 200/- per hour
Certficate: -----------
A machine gun is a fully automatic mounted or portable firearm, usually designed to fire bullets in quick succession, typically at a rate of several hundred rounds per minute. Machine guns are generally categorized as submachine guns, machine guns, or auto cannons. Submachine guns are hand-held small portable automatic weapons for personal defense or short range combat firing pistol caliber rounds. A machine gun is often portable to a certain degree, but is generally used when attached to a mount or fired from the ground on a bipod, and generally fires a rifle cartridge.
REAL TIME APPLICATIONS:
A saw is a tool that uses a hard blade, wire, or chain with a toothed edge to cut through softer materials. A saw may be worked by hand, or powered by steam, water, electricity or other power. An abrasive saw uses a powered circular blade for cutting metal.
WORKING PROCEDURE:
Build the model Machine gun using building instructions.
Click on the NOVASOFT icon then the programming window will open.
Design the program for Machine gun as instructed below.
Switch on the NOVABOT.
Connect the USB cable from system to the NOVABOT and upload the program.
Watch the model how it works.
LEARNING CONCEPTS:
Recoil Motion
Recoil Velocity
Newton's 3rd Law
Gear Mechanism