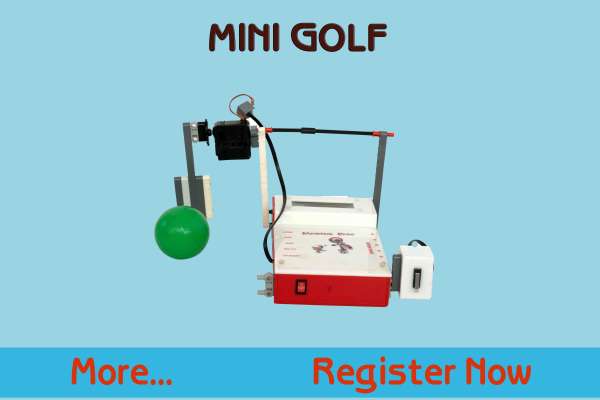 Price: Rs 200/- per hour
Certficate: -----------
A robotic arm swings a golf club to hit balls. Place the robot arm behind the ball and select your shot using NXT buttons or Touch Sensor, then the robot arm will hit the ball, with anything from a soft tap to a hard whack.
REAL TIME APPLICATIONS:
Golf is a precision club and ball sport, in which competing players use many types of clubs to hit balls into a series of holes on a golf course using fewest number of stokes. Golf is defined, in the rules of golf, as "playing a ball with a club from the teeing ground into the hole by a stroke or successive strokes in accordance with the rules."
WORKING PROCEDURE:
Build the model Mini golf using building instructions.
Click on the NOVABOT icon then NOVABOT programming window will open
Do the program for mini golf as instructed below.
Switch on the NOVABOT brick.
Connect the USB cable from system to the NOVABOT and upload the program.
Press the orange button of the NOVABOT to run the motor.
Watch the model how it works.
LEARNING CONCEPTS:
Force
Angle
Speed
Distance
Gravitational force
Working of touch sensor
Working of servo motor